We are delighted to announce that Asset Vantage has been shortlisted for two awards at the Seventh Annual Family Wealth Report Awards 2020. Nominated for ' OUTSTANDING CONTRIBUTION TO WEALTH MANAGEMENT THOUGHT LEADERSHIP' & 'ACCOUNTING TECHNOLOGY'.  The award ceremony will be on 18 March 2020 at the Mandarin Oriental in New York where the winners will be announced.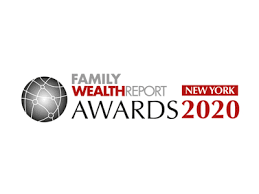 The categories are focused on three main areas:
1. Experts (individuals and teams)
2. Products
3. Services for wealth managers and clients/institutions
As in previous years, independence, integrity and genuine insight will be the watchwords of the judging process and will be conducted by an expert panel drawn from both private banks and trusted advisors/consultants to the sector. There will be three judging panels for the awards.
Winning a Family Wealth Report Award sets organizations and individuals apart from their peers and is a tangible demonstration that they have something special to offer, rewarding achievement and showcasing top class performance and innovation.
Learn more about the AV accounting solution & join leading global accounting firms using the AV platform.
---