AV gets featured in Forbes' 2022 Family Office Software Roundup
It's a long way to the top, but Asset Vantage is getting there! 2022 ends with a bang for Asset Vantage, as we are featured by Forbes in The 2022 Family Office Software Roundup. This bears witness to AV's commitment to innovative solutions that are revolutionizing core operations for Family Offices worldwide and disrupting the boundaries of the WealthTech industry.
Family Offices have become more reliable than ever before on technology to run business operations and next-gen owners and employees now expect technology to provide answers to their problems at their fingertips.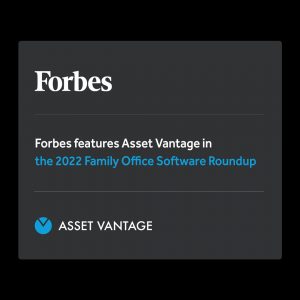 Enter Asset Vantage! An intelligent family office technology platform with integrated performance reporting and general ledger technology that serves global single-and multi-family offices and CPA firms. The AV platform's functionality provides family offices with comprehensive overviews and insights into their wealth data and full net worth in real-time.
In recognition of the AV's upward trajectory, we'd also like to thank everyone involved in making Asset Vantage a stand-out solution for family offices and their wealth custodians!
2023 will see Asset Vantage bring more exciting updates and ground-breaking features to the platform!
Start My AV Trial
---